Freelance writing is the dream career. Who wouldn't want to enjoy all the freedom that comes with freelancing?
Perks include the ability to work from anywhere and no boss to order you around like you're some sort of military recruit.
But then a significant number of freelancers aren't living that lifestyle. Many dream of it, but few achieve it. You know what, successful writers don't have superpowers. They're just like you and me.
You may be wondering, what do they do differently?
Let's take a look at some costly mistakes to avoid if you want to be a successful freelance writer.
Writing bad content
You probably own a blog. If you haven't set up one, then do so immediately. Poorly written content is one of the reasons why some writers aren't landing clients.
Trust me, no client likes to receive work that's full of grammatical errors. They hate it when you do inadequate research. They abhor a writing style that doesn't trigger their audience. Such a client will receive your work, ask for a few revisions if they're not angry enough then disappear, never to be heard of again.
Strive to write awesome content, and your clients will stick to you like glue. They'll always keep coming for more. What's more, a good number will increase your rates.
Inconsistency
Show me a consistent writer and I'll show you someone destined for greatness. One of the killers of many freelance careers is inconsistency. It's a fact that no one loves to do the same thing over and over again.
But history has shown that consistency pays. Famous athletes such as Eliud Kipchoge and Serena Williams have been the best in their careers for many years because of their consistency. They kept going, no matter what.
It's no different in the writing industry. If you write consistently you'll not only improve your craft but also increase your chances of success. Didn't someone say the harder you work the luckier you get?
Not establishing a routine
I must admit to finding it hard to follow a routine, though it's a great way to stay on track. Almost all successful writers have a routine that they follow religiously. Some write daily at 6 AM. Others are comfortable writing in the afternoons. The night owls can't write during the day.
What happens when you don't have a routine? You'll struggle to find the perfect time to write. You'll always be postponing. Just like that, days go by without writing anything. The desire to write fades.
Having a routine is a great way to set a rhythm. Your body gets used to that routine. If you stick to it for a few weeks, you'll never have to struggle with writer's block.
Writing about anything and everything
One of the beauties of freelance writing is the ability to write on almost anything under the sun and get paid for it. I've written countless articles on topics such as productivity, technology, fitness, nudism, art, and sports.
The truth is, most clients are not looking for just any writer. They're running a business and want to be industry leaders. Why would they want to hire a rookie writer like you? Well, you can argue that reading a few articles on the internet will help you write that article. But that's not enough.
Picking a niche means you're dedicating a significant amount of time on it. You're constantly writing and improving your knowledge of it. Eventually, you become an authority on that subject and attract more clients. You're now known as Sarah the tech writer, or Jackson the fitness expert. You can comfortably increase your rates. Sounds good, right?
Thinking you know everything
One thing I've discovered is that a freelance writer never stops learning. Just the other day I discovered I could send an invoice on Paypal, something that was staring at me the whole time. I also recently learned how to create a Linkedin banner on Canva.
When you stop learning, you stop growing as a writer. Keep reading new stuff on a daily basis. In the process, you gain knowledge on your niche or on the industry as a whole. Moreover, you'll acquire new skills which you can use to attract more clients.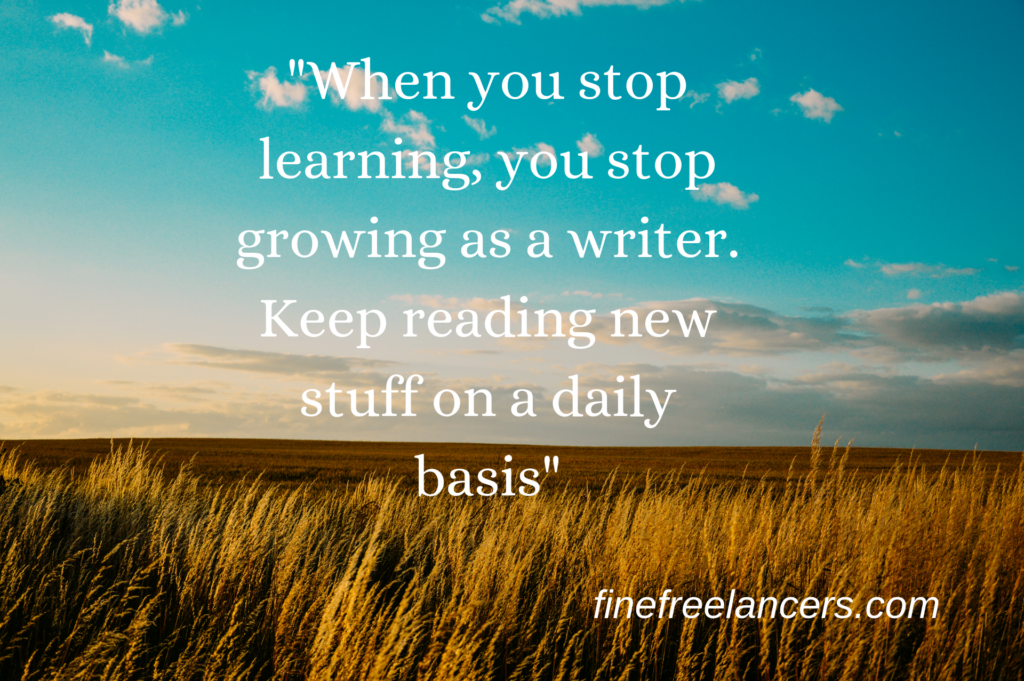 Not promoting your work
Most successful writers I know spend only 20 percent of their time writing while the remaining 80 percent is spent promoting their work. Most clients won't magically appear in your e-mail asking to hire you. It doesn't matter if the content on your site is impeccable.
If you don't promote your work then it will all be in vain. Even the finest farmers on the land have to take their produce to the market (this is not a proverb, haha).
Start by indicating on your social media profiles such as Twitter and LinkedIn that you're a freelance writer. Platforms such as Medium and Quora are also included here. Use these social media marketing tactics to promote your writing business. With time, you'll build a large network and clients will start looking for you.
Ignoring your audience
Take your audience as the wind that guides your ship. Listen keenly. What are their pain points? Is there a writing style that they like? What are they asking/talking about on the comment section of your blog and social media posts?
Understanding your audience enables you to know what is required of you as a writer. Before you start working on a client's assignment, ensure you know the type of content their audience wants. Ask your clients questions for clarification.
Resting on your laurels
Freelance writing isn't like any other career. You're not waiting for a paycheck every month. There's no guarantee that you will be paid after 30 days. If you have no clients then you're not making any money.
Always be looking for new clients. Promoting your content is one way of doing this. You never know who might be looking. Network with other writers and potential clients. Learn how to craft impressive pitches and query letters, as this will increase your chances of landing your next client. Never get too comfortable working with a particular client and forget to look for more.
We're finally done! If you're still reading this I'm hoping you'll be among the top freelance writers in your country soon. There may be other costly mistakes to avoid if you want to be a successful freelance writer. Know of some? Tell us about it in the comments section. And don't forget to share this article with your friends.